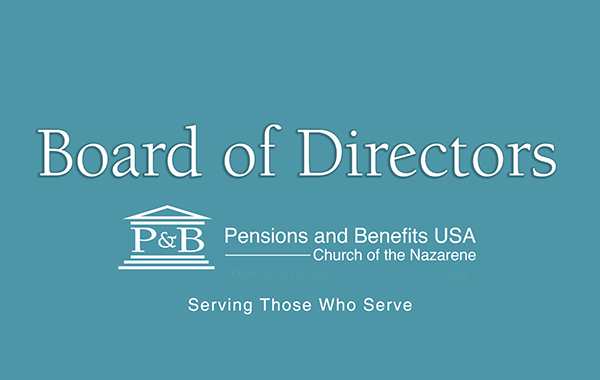 Four new members have been elected to the Nazarene Benefits USA Board of Directors for the new quadrennium, according to Kevin P. Gilmore, executive director of Nazarene Benefits USA (NBUSA). They include Dr. Brad Estep, lead pastor of Sun City, Ariz., Church; Rev. David Lutz, superintendent of the East Ohio District; Rev. John Pickens, executive pastor of Olathe, Kan., College Church; and Mrs. Sonja White, business administrator at Bethany, Okla., First Church. Incumbent members are Dr. Bruce Moore, consultant of Nampa, Idaho; Mark Patrick, CPA with Patrick & Raines of Jacksonville, Fla.; Mrs. Jill Rice, a partner of Alward Fisher Attorneys at Law, of Traverse City, Mich.; and Dr. Orlando Serrano, pastor of Rancho Cucamonga, Calif., Church.
"I am grateful to these gifted men and women who have been elected and agreed to serve as members of our board," Gilmore said. "I believe each has a heart for the ministers of our church and will represent their interests with compassion and diligence. I look forward to partnering with them."
The Board of Pensions is responsible for oversight of the programs administered by NBUSA, and includes ex officio members from the Board of General Superintendents (Dr. David Busic), and General Church leadership (Mr. Keith Cox). The board includes both clergy and lay members, with one selected from each US educational region, and one chosen at-large. All board members are nominated and elected by the Board of General Superintendents for terms that coincide with the timing of the denomination's quadrennial General Assembly. Below are the members for the 2023-2027 quadrennium and the regions they represent.