Written by Stan Ingersol
From his column Past to Present

Standard histories deal with the Wesleyan-holiness movement primarily in relation to the Methodist Episcopal Church (MEC) and the Methodist Episcopal Church South (MECS). Nazarene founders came primarily from one or the other: Bresee, Reynolds, Hoople, Hillary, Widney and Gay from the MEC; Cagle, Jernigan, DeJernett, Robinson, and Benson from the MECS.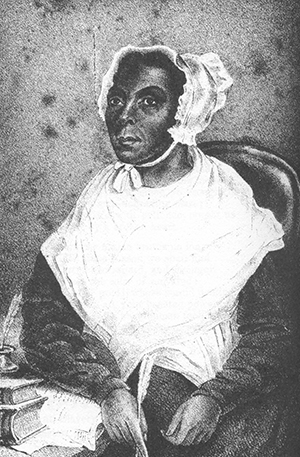 But there were participants from America's African Methodist denominations as well, and three of the leading black participants were women. Jarena Lee, Julia Foote, and Amanda Berry Smith had ministries in the 19th century that anticipated the wider role of women in 20th century Christianity.
Jarena Lee was born in 1783. Upon moving to Philadelphia, she joined the African Methodist Episcopal Church (AME) and became acquainted with Richard Allen, its founder. Lee professed entire sanctification and felt called to preach. She discussed this with Bishop Allen but received no encouragement. Eight years later, she approached him again. This time, he permitted her to lead public prayer meetings.
Jarena Lee's ministry gradually evolved beyond prayer meeting ministry, and she began preaching and holding revivals. She did this for over 30 years, even preaching from Bishop Allen's old pulpit at Bethel AME Church in Philadelphia. Christian holiness was her frequent theme, interlaced throughout her autobiography, Religious Experience and Journal of Mrs. Jarena Lee, published in 1849.
Julia Foote's ministry began as Lee's was winding down. Foote was born in Schenectady, NY, in 1823. Converted at 15, she professed entire sanctification soon afterward. She joined a congregation of the AME Church's sister denomination, the AME Zion (AMEZ) Church, after moving to Boston.
"She preached 'as I never heard her before, and as I have rarely ever heard anybody preach...'"
(Phineas Bresee on Amanda Smith)
Foote's husband died in 1849. Her ministry began afterward. She encountered bias against her gender in some quarters but always found places in AME and AMEZ circles where she could preach, including pulpits in Canada and California.
Her autobiography frequently mentions entire sanctification and concludes with the chapter titled "How to Obtain Sanctification." In 1894, she became the first woman ordained a deacon by the AMEZ Church, and, in 1899, was ordained—the second female elder in her denomination.
Amanda Berry Smith's career somewhat overlapped Foote's. Amanda was born a slave in 1837. After her father purchased the family's freedom, she moved to New York City, where she met Phoebe Palmer, the "mother of the holiness revival." Amanda professed entire sanctification in 1868. Soon she was preaching in African American churches in New York and New Jersey. Some AME pastors opposed her, but others gave encouragement.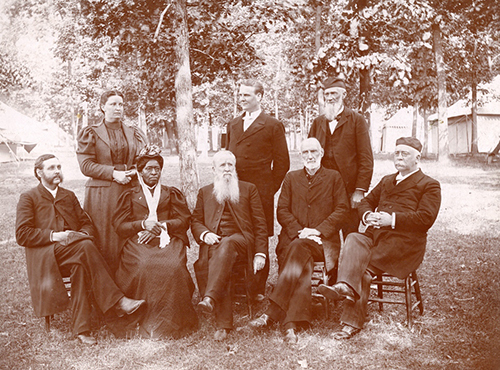 The National Camp Meeting Association for the Promotion of Holiness organized in 1867, and, by 1870, Amanda Smith was preaching at holiness camp meetings across the Northeast and Midwest. Later that decade, she began traveling throughout the world.
She preached in England in 1878, evangelized in India for two years with Bishop James Thoburn of the MEC, and then moved to Africa, working for eight years with another MEC bishop, William Taylor, a leading figure in the holiness movement. She returned to the United States in 1890 and resumed her revival itinerary.
One stop was at Asbury MEC in Los Angeles, where the pastor, Phineas Bresee, invited Smith to conduct services in May 1891. The Los Angeles Herald noted that she preached to "large audiences all week." Bresee was effusive in describing her Sunday afternoon message, noting that she preached "as I never heard her before, and as I have rarely ever heard anybody preach, in strains of holy eloquence and unction, almost equal to Bishop (Matthew) Simpson in the zenith of his power and sacred oratory." This was high praise, indeed, for Bishop Simpson was Bresee's hero.
Smith settled in Chicago in 1892. She opened an orphanage in the suburb of Harvey in 1899 and operated it until 1912. Like Lee and Foote, she wrote an autobiography, The Story of the Lord's Dealings with Mrs. Amanda Smith, The Colored Evangelist (1893). Leading AME clergy and other leaders in Chicago's black community attended the elaborate funeral service that commemorated her life.
There is no record of Jarena Lee's death. Julia Foote died in 1901. Amanda Smith died in 1915. Through faithful service and response to their call, these women expanded the footprint of female ministry even as they spread the message of Christian holiness.
Stan Ingersol is manager of archives for the Church of the Nazarene.